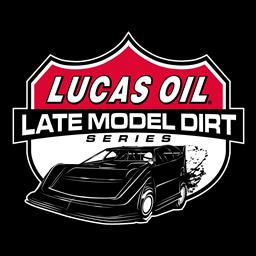 7/6/2017
Lucas Oil Late Model Dirt Series
---
Ferguson Scores First-Career Lucas Oil Victory at Fayetteville
FAYETTEVILLE, NC (July 6, 2017) Chris Ferguson made his home-state fans proud on Thursday night as he won his first-career Lucas Oil Late Model Dirt Series event in the Dunn-Benson Ford Wayne Gray Memorial - presented by Campbell University at Fayetteville Motor Speedway. The 27-year-old completed a dream night by setting fast time, winning his heat, and leading all the way to become the 15th different driver to win a LOLMDS race in 2017.
Gregg Satterlee; in his first ever appearance at the track; came home in second, and he was followed by G.R. Smith, who recoded his best career LOLMDS finish with a third place. Completing the top five drivers were Josh Richards and Steve Francis. With his finish tonight, Richards has taken over the points lead from Scott Bloomquist by just 10 points heading into Cherokee Speedway on Friday night.
Ferguson emerged from his car in victory lane and hugged a multitude of people to the cheers of the large crowd on hand for the event, and thanked several people and sponsors for their help in finally getting to Lucas Oil Victory Lane for the first time.
"Man, thank you all so much, thanks to the fans for coming out tonight. I wasn't sure about passing McCreadie, Once I couldn't get to his outside I just rode around there. I slowed my pace down there towards the end. It's taken a lot of hard work and sweat to get here [to Victory Lane]. I nearly won a Lucas Oil race at Cherokee back in '09, but finished second or third. Hats off to my crew, my friends and family, and all my fans for sticking with us. There's been a lot of ups and downs but they have always stuck with me," said Ferguson.
Ferguson fought off all challenges from Satterlee and Smith to get the win. Despite heavy late-race traffic, Ferguson held a manageable lead until the finish. "I have to thank Mark Richards at Rocket Chassis, and this is a brand-new Clements Racing Engine. Thanks to Lucas Oil and the track for putting this on. I have to actually get up and go work tomorrow, but we will be at Cherokee tomorrow night to try and make it two-in-a-row."
Ferguson's car is sponsored by Diff-Ron Machining, Live Oak Dentistry, Carver and Sons Roofing, K&K Trucking, Champion Spark Plugs, Big A's, Harley Racing, RPM Trailer Sales
Satterlee's second place finish was well-deserved after he suffered issues on Monday Night at Muskingum County Speedway where he failed to complete a lap. "We put a new Durham engine in the car today and it performed very well. This was my first time here and I thought the track was good. Congrats to Chris on the win. I believe that was three Rocket XR1's in the top three."
Smith who narrowly lost out to Ferguson for overall fast time had his best career LOLMDS finish. "Oh, we are extremely happy. That's our best run with these guys. They are the best in the business and it's an honor to race with them."
Completing the top ten were Earl Pearson Jr., Dustin Mitchell, Kyle Pierce, Scott Bloomquist, and Jimmy Owens.
Lucas Oil Late Model Dirt Series
Race Summary
Thursday, June 6th, 2017
Dunn-Benson Ford Wayne Gray Memorial
Fayetteville Motor Speedway – Fayetteville, NC
Miller Welders Fast Time Group A: Chris Ferguson / 16.151 seconds
Miller Welders Fast Time Group B: Gregg Satterlee / 16.162 seconds
Eibach Springs Heat Race #1 Finish (10 Laps, All Transfer): Chris Ferguson, Josh Richards, Scott Bloomquist, Jimmy Owens, Dennis Erb, Jr., Darrell Lanigan, Roger Lucas, Mike Parker, Donald Bradsher
FK Rod Ends Heat Race #2 Finish (10 Laps, All Transfer): GR Smith, Dustin Mitchell, Boom Briggs, Kyle Pierce, Justin Williams, Dennis Franklin, Jonathan Davenport, Willie Milliken
Simpson Performance Products Heat Race #3 Finish (10 Laps, All Transfer): Gregg Satterlee, Steve Francis, Earl Pearson Jr., Don O'Neal, Tim McCreadie, Hudson O'Neal, Doug Sanders
Feature Finish (50 Laps):
FINISH START CAR # DRIVER NAME HOMETOWN EARNINGS
1 1 22F Chris Ferguson Mount Holly, NC $10,000
2 3 22 Gregg Satterlee ® Rochester Mills, PA $6,300
3 2 22* GR Smith Statesville, NC $3,500
4 4 1R Josh Richards Shinnston, WV $3,450
5 6 15 Steve Francis Bowling Green, KY $2,950
6 9 1 Earl Pearson, Jr. Jacksonville, FL $2,600
7 5 32 Dustin Mitchell Princeton, NC $1,500
8 11 281 Kyle Pierce Statesville, NC $1,300
9 7 0 Scott Bloomquist Mooresburg, TN $2,200
10 10 20 Jimmy Owens Newport, TN $1,900
11 8 99B Boom Briggs ® Bear Lake, PA $1,775
12 12 5 Don O'Neal Martinsville, IN $1,850
13 15 39 Tim McCreadie Watertown, NY $1,725
14 16 14 Darrell Lanigan Union, KY $1,700
15 14 89 Justin Williams Concord, VA $950
16 23 93 Donald Bradsher Burlington, NC $925
17 18 71 Hudson O'Neal ® Martinsville, IN $1,600
18 22 72 Mike Parker Eastover, NC $875
19 13 28E Dennis Erb, Jr. Carpentersville, IL $1,550
20 24 1M Willie Milliken Roakone Rapids, NC $825
21 25 12 Zach Cox Lumberton, NC $800
22 19 79 Roger Lucas Benson, NC $800
23 17 2F Dennis Franklin Gaffney, SC $800
24 21 42 Doug Sanders McAdenville, NC $800
25 20 49 Jonathan Davenport Williamson, SC $800
Race Statistics
Entrants: 25
Lap Leaders: Chris Ferguson (Laps 1 – 50)
Cautions: Mike Parker (Lap 10)
Lucas Oil Late Model Dirt Series Provisionals: n/a
Lucas Oil Late Model Dirt Series Emergency Provisionals: n/a
Wrisco Feature Winner: Chris Ferguson
Optima Batteries Hard Charger of the Race: Earl Pearson Jr. (Started: 9th; Finished: 6th; Advanced 3 Positions)
Midwest Sheet Metal Spoiler Challenge Point Leader: Scott Bloomquist
Allstar Performance Power Move of the Race: Chris Ferguson
Sunoco Race for Gas Highest Finisher: Josh Richards
Hot Rod Processing Rookie of the Race: Gregg Satterlee
COMP Cams Engine Builder of the Race: Durham Racing Engines
Ohlins Shocks Chassis Builder of the Race: Rocket Chassis
Outerwears Crew Chief of the Race: Robbie Allen (Gregg Satterlee)
Fastest Lap of the Race: Chris Ferguson (Lap #6 – 16.9571 seconds)
Safecraft Most Laps Led: Chris Ferguson (50 Laps)
PFC Brakes Pole Award: Chris Ferguson
Time of Race: 18 minutes 03 seconds
---
Submitted By: Jeremy Shields
Back to News